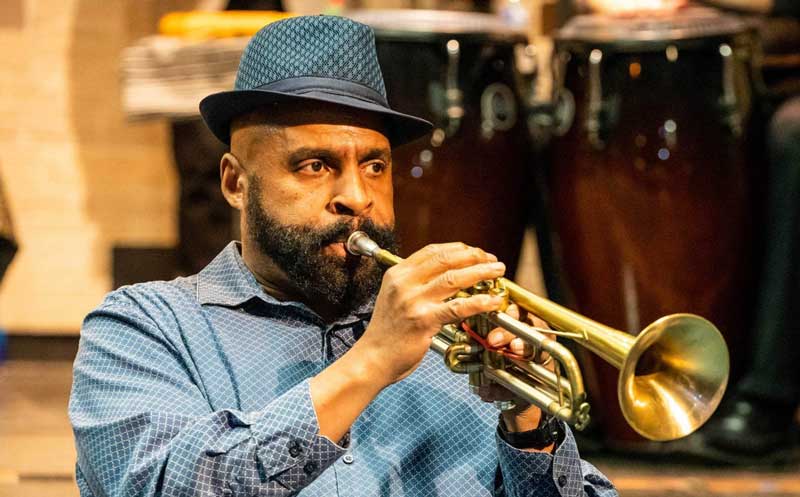 Carlos Francis is the son of Panamanian parents. He grew up in Brooklyn, New York where he began playing the trumpet in Carlos Francisthe fifth grade. He continues his music education in Irvington, New Jersey where he participates in marching, concert and jazz bands. He attended Montclair State University where he received his B.A. degree in music education.
It is no coincidence that Carlos is a musician and teacher since he hails from a family of musicians and educators. His grandfather Romeo Francis was a bandleader (played baritone sax), his uncle Claude Walker Jr. was a drummer and bandleader. His father is an excellent tenor saxophonist who plays in a variety of Latin bands (La Conexion Panamena) and is a contributor in this CD.
There are quite a few educators in the family, which includes his grandmother Louise McGrath Walker, who was the founder/owner of the McGrath Walker Business School, and Joyce Headley (aunt) in Panama. His mother, Jacqueline Walker Sapp, is a bilingual guidance counselor; Louis Walker (uncle) is a former principal. Ivy Richards (cousin) is a teacher all in the N.Y.C. public school system. Carlos also has a brother (Andrei Francis) who is an outstanding club DJ for Brokers Entertainment Complex in East Orange, NJ.
An outstanding studio musician, Carlos has recorded with Lauryn Hill, Wyclef Jean, Denroy Morgan, Charles Farland, Kool and the Gang, Rites of Passage and the Spirit of Life Ensemble.
Carlos has performed with Lionel Hampton, Jimmy McGriff, Bernard "Pretty" Purdie, David "Fathead" Newman, Randy Weston, Rhoda Scott, Gloria Coleman, Don Patterson and many others.
Carlos has toured Europe, performing at the Pori (Finland) Jazz Festival and "The Duc Des Lombards Jazz Club in Paris, France. He also made numerous television appearances, performing with the Spirit of Life Ensemble on Fox 5, NUN 50, and Comcast (NJ) Cable live at Liberty Park. He performed with the group Rites of Passage on a live radio broadcast on WBGO for the 1997 Newark Jazz Festival and was also interviewed for the Spirit of Life CD "Feel the Spirit" which featured his composition "Happy Blues" also broadcast on WBGO.
Carlos' trumpet influences are Louis Armstrong, Roy Eldridge, Miles Davis, Dizzy Gillespie, Clifford Brown, Freddie Hubbard, Lee Morgan, Donald Byrd, Woody Shaw, Cat Anderson, Maynard Ferguson, Jon Faddis, Randy Brecker, Hugh Masekela, Herb Alpert, Chuck Mangione and Tom Browne.


Carlos Francis is name known or should be known by anyone who is serious about the jazz scene in the metropolitan area. He is a superb musician, teacher, and educator who presented his first recording under his own name. He also has a rich collection of his varied efforts and collaborations. A musician, who has worked with artists as diverse as Lionel Hampton and Lauryn Hill, Carlos has constantly displayed his skill not only as a trumpet player, but as a composer as well. Of the twelve tunes on this CD, Carlos Francis has composed six of them as well as the arranging on most of the others.
Beginning with a rather unique version of an early childhood Sunday School ditty, Carlos with his father, Carlos Sr. on tenor as well as guitar master Geary Moore and The Burner himself, the late Charles Earland on organ, collaborated "Jesus Loves Me." Throughout the project there is an outstanding list of various ensembles Carlos is connected with as well as such names as drummers Don Williams and Greg Bufford, guitar whiz Lenny Argas, pianist Onaje Allan Gumba, bassist Belden Hadlock and Steve Waxman, trombonist Clifford Adams and Cornel McGee, also including veteran reed man David Robinson and James Stewart.
There is a strong contingent of Latin players on Tom Mattioli and Tito Rivera's arranged, "Song for My Father", a Horace Silver's classic. Check out "Schoolhouse Blues," a Carlos Francis composition and arrangement that really cooks. There is some nice solo work on trumpet and strong trombone work from Cornell McGee. The rhythm section of Richard Clements and the Johnson Brothers also lend a strong hand on this tune. Another original, "Good Vibes at the 12th Circle" (The title track), displays muted horn as well as piano work from Carlos. Check out Clifford Adams on trombone and a young lion, Robert "Shea" Taylor on alto sax.
Vocalist Jenella Adkins shows her talents on Carlos' "Love Hideaway" and Billie Holiday's "God Bless the Child." Summing it all up, I must mention the fine horn work of Roy Johnson on both tenor and soprano, along with Lawrence Maltz on guitar. Note too the conga voicing of Everald Brown and Rick Conga, along with Donald Robinson whose trombone work is found on "Schoolhouse Blues" and "Tutu." Chris Eddleton displays his drumming skills on "Tutu."
A varied and impressive cross section of Carlos Francis, his first CD as a leader demonstrates his ability to mix and master the many facets of the jazz idiom, to bring together a potpourri of the area's top talent and blend it all in a choice presentation.